Best Gardening Gifts for Her
If you're mom is an avid gardener like mine, then your days now are probably filled searching for perfect Mother's Day Garden gifts. The Mother's Day garden gifts below are basic gardening gifts I have found over the years. These garden gift ideas are still handy because tools wear out and break over the years. However, if your mom has gardened for a while and you just want something a little extra special, check out this list of unique gardening gifts for mom.
Gifts for Beginning Gardeners
Herb Gardening Gift Baskets
This adorable Deluxe Herb Garden Kit contains 12 varieties of easy to grow herbs. They add fragrance and can be used in a variety of recipes and craft projects. The 12 seed packets come packed in a rustic harvest basket with handle. The handled basket is great to carry into the garden when harvesting your fresh herbs!
Garden Tool Basket
This gardening tool basket really the perfect gift for any beginning gardener. It has no rust tools, a caddy for other supplies and gloves. Throw in some seeds and it will be a complete gift set complete with all the basics for beginner gardener. You can also get ideas to make your own tool basket.
Herb Drying Rack
Growing herbs is great, but it's always a hassle to find new places to hang them while they dry.
So when I saw a herb drying rack I thought it was a great idea for any gardener who loves growing their own herbs.
Seed Starting Kit
Gardeners like to start their own seeds. It saves a lot of money and also, you can control how your plants are grown all the way through the process. This seed starting kit gift is great for gardening moms just starting out to make their seed starting ventures a success.
Garden Kneeler
For any gardener experience level, the garden kneeler is a must. With this tool you have a cushion for your knees, a seat to rest, and a way to steady yourself when you are ready to get up.
Garden Experiences
Besides spending time in the garden, there's nothing more fun for a gardener than to go tour other gardens. This can include botanical gardens, community gardens, greenhouses, and other well-known garden experiences around your area. Sometimes, even touring farmer markets in your state, trying the various fresh foods and baked goods each area has to offer could be a fun outing idea. Make it a mother-daughter day for the ultimate Mother's Day garden gifts experience.
Garden Decorations
Garden decor is a must have for a gardener. In my opinion, unless they are a beginner, garden decorations are the best gardening gifts for mom. There are so many options and they're easy to customize, making them special for your mom.
Bird Houses
Birds are great friends of the garden because they help maintain pests, help with pollination, are great for the ecosystem, and help improve mental health. There's many ways to attract birds to the yard, and bird houses are one of those ways.
Insect Houses
Who doesn't like beneficial insects? Insect houses such as butterfly houses, solitary bee houses, and beneficial insect houses are great for both the insects and the gardener.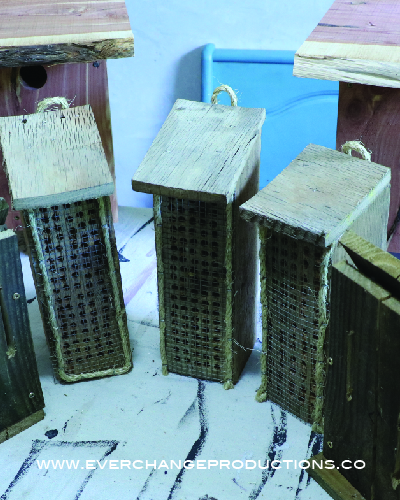 Sea Glass Wind Chime
This rustic DIY Sea Glass Wind Chime Suncatcher is a unique outdoor decoration you can make to hang in the backyard or garden. Using glass beads and small cowbells makes this a simple beaded homemade craft.
Gifts from the Garden
If you're a gardener too, then there is a great bounty of gifts in your own garden. You can make dried herbs, garlic braids or dried pepper strings.
Best Gardening Gifts for Mom
Fruit Trees
If your mom has space, fruit trees are a gift that keep on giving. Depending on your area, apple trees, pear trees, fig trees, are all great options. This fruit tree website specifies fruit trees based on your growing zone.
Compost Bin
If your mom buys compost b the truckload, a compost bin is a great gift so she can make her own. No matter how much space she has, she can compost. Check out these awesome composting resources to choose the right bin.
Garden Cart
Garden carts are just great. No need to say more, but this particular garden cart folds up for easy storage, and is designed for individuals with back pain, weak muscle strength and is extremely light weight for everyday usage. It also has pouches for tools or water bottles.
Potting Bench
I'm not sure about you, but I just love potting benches. There is an assortment of options, including that could be hooked up as a sink. They make potting a breeze without getting other work spaces dirty. You can also make your own using repurposed pallets.
Folding Wheelbarrow
Another storage friendly gardening tool. This folding wheelbarrow is lightweight and is perfect for smaller jobs, like leaf pickup, pruning, perennial cleanup, and tidying up the veggie garden for winter. The heavy-duty vinyl holds all kinds of messes and cleans up simply, just wipe or spray it down.
Long Handled Weeder
No one likes weeds in their garden. This is a great tool to help remove those pesky things without breaking your knees.
Seed Subscriptions
This is something I recently discovered, but it seems pretty cool. GrowJourney gift subscriptions make a fantastic present for gardeners and we offer subscriptions for any garden size, from vertical gardens or from small/patio gardens to large gardens. The offer heirloom organic seeds and with them a ton of good information so you can grow them anywhere.
Mother's Day Garden Gifts
So there you have a comprehensive list of Mother's Day garden gifts. Check out this other post for more unique garden gift ideas. Please leave a comment with your best Mother's Day gardening gift idea! Don't forget to save this pin for later!